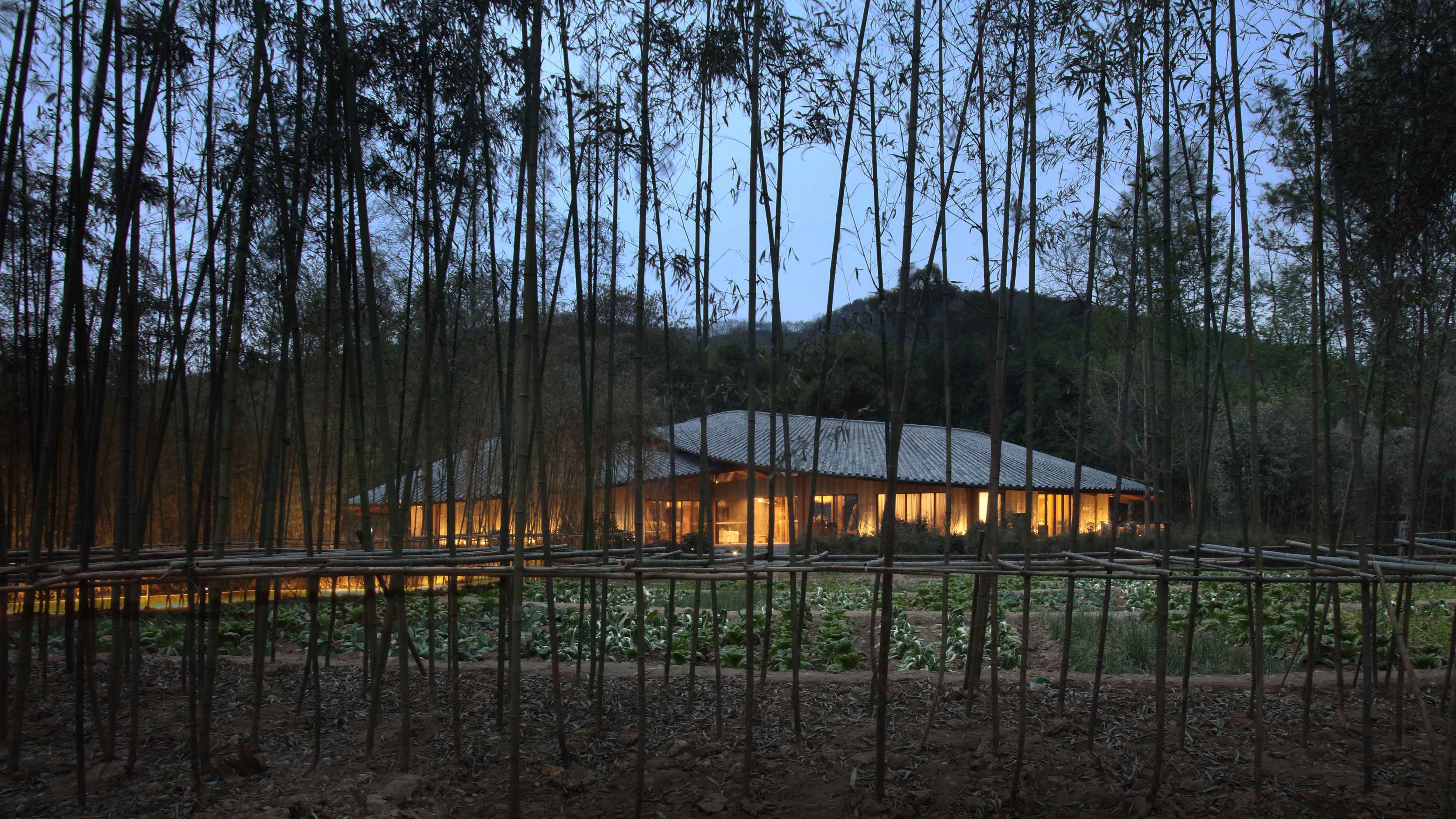 In Bamboo is a rural construction project we did in Daoming Town, Sichuan Province at the beginning of 2017. Daoming Town is well known for its enduring tradition of bamboo-weaving. In Daoming, the practice of weaving is more than a rural industry, it is an integral part of the way families in the town spend time together and how neighbors visit with each another. The traditional Daoming Bamboo-Weaving craft is a living cultural heritage with much in store to offer contemporary ways of living and making.
The gestural interweaving roof is a construction of many prefabricated parts delivered to the site ready for quick assembly. The Mobius-shaped roof is supported by a 70% light prefabricated steel frame and finished with traditional ceramic tiles. The high efficiency afforded by pre-fabricating components made the 52-day construction period of this complex geometry possible. The cultural center we completed is provision for exhibitions, hosting conferences, community gathering, as well as dining and recreation. It integrates the site with the surrounding villages and with the natural ecology. The project also explores the interaction of the city with new rural construction. It practices the integration of new construction technology with local craft. The project integrates traditional construction techniques with prefabricated industrialization.
In the development of this project, abundant research from years of experimenting with digital structural wood fabrication technology was put to use.The essence of parametric design is to solve problems systematically by constructing a logical structure. In the early stage of shape-finding, the topological geometric prototype has little to do with parametric logical features. What we do is deal with the relationship between structure and material properties as they relate from geometry to construction. For instance, it is necessary to input the span parameters of each structural member into a structural rationalization analysis, this process then can generate reasonable construction solutions. Through lessons learned from past years of experimental construction, we are now able to transfer geometry from the model to a timber construction logic and accurately adjust the sizes of all production materials to meet connection requirements.
Service: Robotic Timber Structure
Construction: 01. 2017 - 03. 2017
Location: Daoming County, Chongzhou City, Sichuan Province